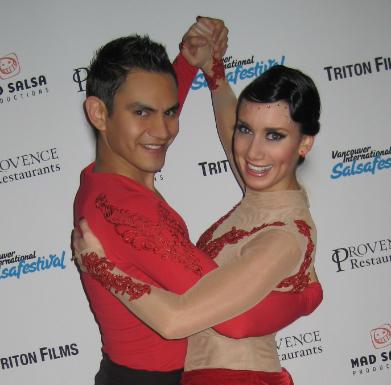 MoreSalsa offers Salsa and Latin Dance classes in Calgary for all levels. Whether you have never danced before, or you are an emerging dancer, our classes are designed to cater to your needs. There is no age limit, no experience or partner required. We want you to be able to dance anywhere, with anyone, and confidently leave our classes to the dance floor! Salsa dancing is an excellent way to widen your social circle and improve your fitness.
Join us for salsa, bachata & cha cha cha classes. Check our "Classes" tab.
Watch for upcoming Socials and Workshops under our "Events" tab.
Testimonials
"For years I've been salsa dancing for fun and have always loved it. However, I wasn't truly inspired to further improve until I had the opportunity to learn from Max and Melissa. Not only have they inspired me by their own personal dancing, but since I've taken classes I see what wonderful instructors they are. Max and Melissa have been instrumental in skillfully guiding me in a fun, supportive way so that I have been able to learn, improve and enjoy salsa dancing even more. I feel so lucky to be learning from such talented dancers here in Calgary!" -- Janet Vielguth
"For me, salsa dance is synonymous with musicality, community and most importantly, fun! Melissa and Max combine these attributes (and more!) within a dynamic classroom setting, providing expert instruction which is sure to help build the foundation of any dancer, no matter what level." -- Paul Moon
"I highly recommend Max and Melissa. You get the advantage of 2 pairs of eyes and Max brings a "latin flavor" to the patterns. Obviously they were both born to dance and know how to look great on the dance floor." -- Alan Gunn